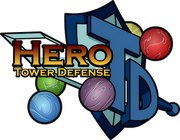 This is the article on Hero Tower Defence, or HTD, made by
Sam Otero
,
Dan Bell
, and
Kevin Nelms
, the staff of Sam & Dan Games. It is currently in v.0.011, but Sam & Dan plan to add many things in the future.
There are several types of enemies, including mid-bosses and bosses.
Areas & Levels
Edit
There will be many areas and levels, in HTD, but currently the only area known is Fortuitous Cave, but the only level playable is Demo Level.
Characters
Edit
There will be many characters that are different races and genders. The only characters in HTD currently are Cheryl and Maximus.
There will be many different types of weapons in HTD. So far we have a giant puple blade, a sword, a kunai, a long mage staff, a battle axe, and a hammer.