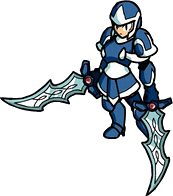 There is currently not much information on characters, except that there will be multiple races by the game's end. It has been hinted that some may be original species, possibly made by character input polls.
Characters
Edit
Main article: List of Characters
Currently there is only one playable race, but more will be added soon.
Main Stats
Edit
Strength (STR)

-

Increases Physical Damage
Stamina (STA)

-

Increases Health Points
Agility (AGI)

-

Increases Speed
Dexterity (DEX)

-

Increases Skill
Intelligence (INT)

-

Increases Magical Damage
Health Points (HP)

-

The amount of damage you can sustain
Speed (SPD)

-

How fast you are at attacking and dodging
Skill (SKL)

-

How skilled you are at hitting and recovering
Physical Power (PP)

-

How strong you are with physical weapons and skills
Magical Power (MP)

-

How strong you are with magical weapons and skills
Physical Defense (PD)

-

How much physical damage you mitigate.
Magical Defense (MD)

-

How much magical damage you mitigate.
Attunements
Edit
Stat Icons
Edit
These are the icons that this wiki uses in place of stats.